31mayo10:00 pmJam session: The Art's Jazz Ensamble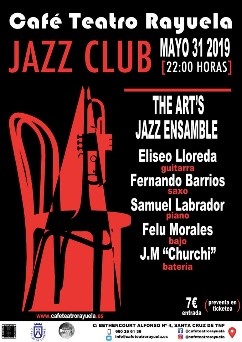 Detalles del Evento

The Art's Jazz Ensamble, quinteto compuesto por Eliseo Lloreda (guitarra), Fernando Barrios (saxo), Samuel Labrador (piano), Felu Morales (bajo) y J.M "Churchi" (batería), son pura energía en escena. Todos ellos han ido desarrollando un lenguaje propio construyendo sobre el jazz tradicional: "hard bop", "bebop", "cool", etc., donde el riesgo y la interacción rítmica son su principal distintivo, simultaneando lo acústico y lo eléctrico, abordando diferentes estilos desde los más complejos a los más minimalistas. "Feeling" en estado puro.

Cuándo: 31 de mayo.

Lugar: Café Teatro Rayuela. C/ Bethencourt Alfonso, nº 4.

Horario: 22:00 horas.

Precio: 7 €. Entradas aquí.
Localización

Café Teatro Rayuela

Calle Bethencourt Alfonso, 8, 38002 Santa Cruz de Tenerife